Post by Ninja Chris on Mar 30, 2009 23:32:07 GMT -5
Ok, I'm putting up the Torrent info here, since it is in no way related to the 'special' place. And if it goes down, it's not a big deal. Easily fixed.
thepiratebay.org/torrent/4813349
www.mininova.org/tor/2440396
(High Quality, DOES work)
Now here's what you need to do:
1.) Have a BitTorrent program (Such as uTorrent (Fastest) or Azureus Vuze (Easiest to use)
2.) OPEN the file from the link I gave you with the BitTorrent program you selected (A download won't really do much good, since the program needs to use it)
Note: The file is INTENTIONALLY tiny. This is called a 'Magnet Link', and is labeled filenamehere.maybesomethinghere.torrent (Or whatever). You haven't downloaded Sasuke 22 yet.
3.) Leave it alone! If all goes well (Which you shouldn't have done anything wrong...) then you'll see the file appear on your Bittorrent program. Once you see the file is 100% downloaded, then the file is complete!
4.) Once the file is complete, the status will change for that download. You will automatically turn from a 'Leecher' (Someone downloading the file) into a 'Seeder' (Someone sending the file to other users). Seed as long as you wish, but the more you help, the better!
NOTES ON HOW TO USE THE PROGRAMS LISTED ABOVE!
For uTorrent: (http://utorrent.com/downloads)
uTorrent is an extremely tiny program, and runs very fast because of that. However, it's not as user friendly, but follow my guide and you'll be hooked in no-time.
For this reference, I am both downloading AND uploading (Leeching AND Seeding, respectively). Don't be dismayed by this.
1.) Even though you will see the file's full size in the folder you are downloading to (By default it's your 'Downloads' folder provided by windows, or whoever), this does NOT mean your file is done! Simply that the space has been allocated ahead of time. Use your bittorrent program to know if your file is done or not!
2.) Under the 'Seeds' column, the number to the left states how many people you're connected to that are seeding. The number in parenthesis (I believe) means how many people exist that are seeding, not necessarily that you are connected to them!
3.) Same applies to 'Peers' (Leeches). Just because they don't have the full file, doesn't mean you aren't downloading from them! If they have a part of the file you currently don't, you will still download from fellow leechers in addition to the seeders, and vice versa. This is also why you will always have both a DL speed and an UL speed (Download and Upload).
4.) -EDIT- Ratio is the amount of the file you have uploaded to others. You can note that you'll be uploading to others while downloading as well, so don't be suprised when your ratio increased before you become a seeder. It's recommended you have at least a 1.00 ratio so everyone has at least part of the file.
5.a) You can also find a basic ratio when downloading the file. Look here from the pirate bay site:

5.b)See how there are currently 3 seeders and 28 leechers? Well, if the other 2 seeders, as well as myself, stopped uploading, the ratio would be stuck with the culmination of what everyone else has together. This is why it's important for Leechers to be able to send info to one another: It's a desperate last chance for everyone to be able to put the pieces together and still possibly come out with at least one 100% file.
---------------------------------------
For Azureus Vuze: (http://azureus.sourceforge.net/)
Azureus Vuze is a bit heftier in size, but is also a bit more user friendly. It has it's own little YouTube like service built in (Without the ability for users to upload videos, you can just download whatever is already there for show) for easy entertainment, and with a bit of digging around, it has as much potential as uTorrent.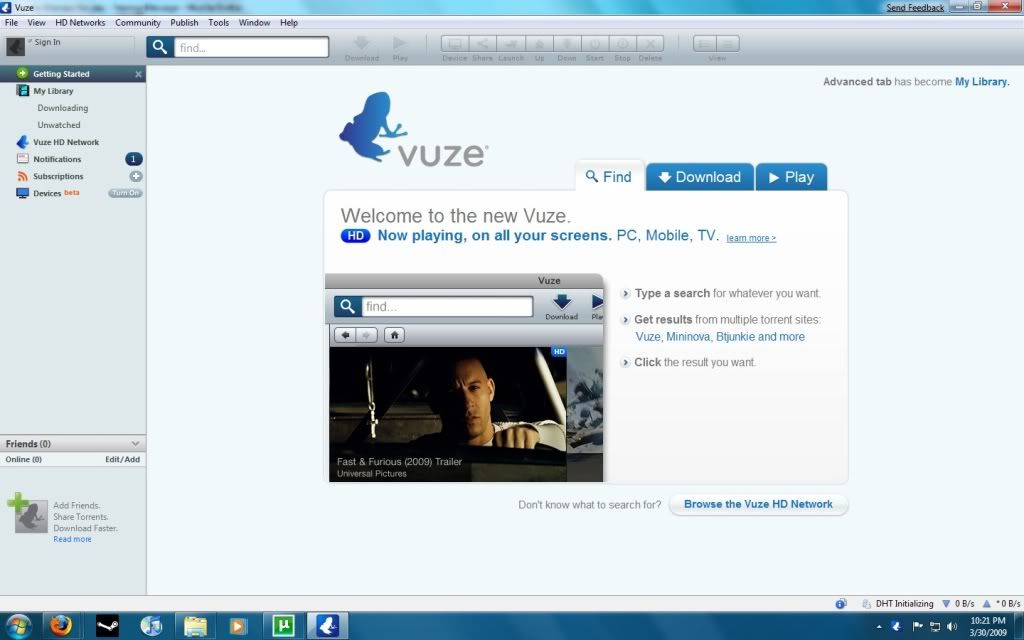 This is your start page. A simple little way to search their database for other bittorrent 'things'. I never used it, but do whatever you want. As for the MAIN reason we're here...
1.) Open the The Pirate Bay file that I linked to up above, just like before. Open it with Azureus.
2.) It will show under 'My Library' -> 'Downloading'. I believe it will move into a 'Uploading' category or something when finished, but I couldn't tell you to be sure. Like I said, I've used uTorrent most of my life.
3.) Like I said, it's visually very user friendly; you're already on your way to downloading, but ALSO like I said, uTorrent can potentially download faster since it is a much more condensed program. Pick your program carefully.
---------------------------------------
Two last notes: When you're ready to delete the file, do NOT just select the file and press the delete key. You will not be deleting the Magnet Link, which in my mind, makes things messy.
Right click the file, and under 'Delete' (Or 'Remove And'), select the option of 'Delete Both' (Or 'Remove Both'). This will keep things nice and neat.
Second off, if you cut and paste the file you are downloading into a different place while the BitTorrent program is running, then the program will suddenly think that it's lost the file, and start RE-DOWNLOADING THE FILE from scratch! A cut and paste IS NOT translated into 'Oh... you're done! Ok, no more downloading then.'
Post any questions you have. I hope the MOD's are ok with me leaving this under the Sasuke 22 forum, since it's directly in use for Sasuke 22, but if not, whatever