Post by zoran on Feb 8, 2021 17:54:49 GMT -5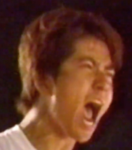 Firstly I definitely wouldn't say he's a 'regular' challenger; he's probably the strongest competitor we have right now only behind Morimoto, Yoshiyuki, and Tada (tied with Jun I'd say). He's certainly much more consistent than the rest of the Morimoto Sedai and the 'dying stars' I've listed, having made Stage 2 in 9 out of his last 10 competitions and Stage 3 on 6 of those occasions.
Anyway, your first point is why I said that there was no 'tangible impact' of him doing well into his 40s; I've used this term a fair few times and what I mean by this is that an event occurring has a genuine positive or negative effect on that competitor's chance of achieving Kanzenseiha, an example being Kongu's Final Stage kerfuffle in 24 as he had a serious chance of actually winning it all otherwise. In Hioki's case, there's arguably no tangible impact of him reaching Stages 2 and 3 again in the next few years because we know he's 95% going to continue choking on the Cliffhanger, or 5% may clear it once but go out on the Vertical Limit, with both obstacles due for an even more grueling refresh.
In fact, out of all those mentioned here, I wouldn't say any competitor's early fails have caused them to miss out on a potential Kanzenseiha, the exception being Ryo who I'm sure could've probably done it in 31, but I defo think he's missed his window as no way could the less interested, less consistent, and more out of shape Ryo have a real shot on the current Final Stage, which again is due for an even harder refresh.
In terms of the others, Kanno's Final Stage attempt wasn't a near enough miss for me to think he would've won in 24 (or the even harder 31 for that matter), Shunsuke hasn't displayed whatsoever that he's capable of clearing Stage 3 again, Darvish doesn't even deserve to be acknowledged r/e this topic, and Tomo's Final Stage attempt was rubbish and his subsequent Stage 3 attempts haven't been particularly convincing that he's a genuine candidate for Total Victory, in spite of being branded as Mr #99 (it's even in his Instagram name; me thinks that's due for a change sometime soon). Obvs none of them have a shot now, hence the creation of this thread....
The only reason Kawaguchi's Sasuke 30 final stage attempt was poor was due to the poor traction on spider climb walls that lead to him slipping alot.His pace on the rope was impressive though.His main issue is just inconsistency with the cliffhanger jump and landing, he should practice that alot more and the vertical limit.He did second best in 34 and 35 and his performance on first stage in sasuke 32 was legendary.